Stocks: Tenaris (TS) climbs on
You might have
read here
, that I bought Tenaris (TS) on May 5th, at $69.
Today, TS has reached $138.
Now, if you follow rational or growth investing techniques, you might want to take some money off the table - reduce your total holding back to its value about 50%-60% ago.
But, if you're following
Nicolas Darvas'
strategy, you might want to buy MORE of this stock just about now.
My gut feeling tells me that I need to buy more of this stock - but - I have no funds left - I am all in-the market.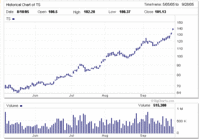 Tags: stock market, portfolio , TS